Herbal Fiberblend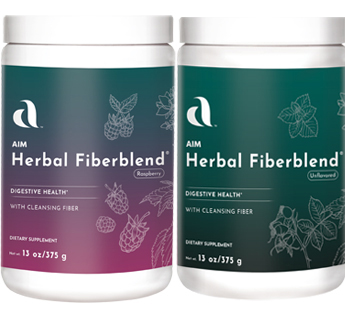 When AIM introduced Herbal Fiberblend, fiber was just being "discovered" and many people considered using herbs a "radical" thing to do. AIM, however, had done its homework and realized that both fiber and herbs could be useful in maintaining health. Time has proven AIM correct. AIM Herbal Fiberblend remains popular because it is a quality product that provides quality benefits!
Quality Product
The special mix of herbs and fiber in AIM Herbal Fiberblend was years in the making. AIM compiled research, performed tests, examined results, made changes, and performed more tests. The final result is the product that so many AIM Distributors use today. Among the findings are indications that it improves digestion and gastrointestinal function
Quality Features
What distinguishes AIM Herbal Fiberblend from other products? For one thing, the combination of herbs and fiber is unique. Many other products have one or the other, but not both. The bulk of the fiber in AIM Herbal Fiberblend is psyllium, a soluble fiber that has made headlines for its beneficial properties. Psyllium is 60 percent to 70 percent soluble fiber, which is more than eight times more soluble than oat bran. This means you get more of the benefits attributed to soluble fiber.
The herbs also contain some fiber, and together, the herbs and the psyllium add up to over 12 or 13 grams of fiber per two-tablespoon (18 g) serving of Herbal Fiberblend. Most experts_including those at the National Cancer Institute and the U.S. Food and Drug Administration_recommend consuming between 25 grams and 30 grams of fiber per day, and some health practitioners recommend up to 40 grams of fiber per day. Last, but by no means least, the herbs work together to provide you valuable nutrients. The nutrients include vitamin C and vitamin A (as beta carotene); calcium, iron, and copper; and trace amounts of other vitamins and minerals.
Quality Benefits
Of course, it is not really the features that keep AIM Herbal Fiberblend popular. It is the benefits. The bulking power of psyllium helps move digested food through the intestinal tract more quickly, evacuate waste more thoroughly, and regulate bowel movements. The psyllium may also contribute to more stable blood sugar because soluble fiber slows down the absorption of carbohydrates.
The unique combination of herbs and fiber also has healthful cleansing properties.
Using Herbal Fiberblend
Since most people consume less fiber per day than is recommended, you should start by taking smaller amounts of AIM Herbal Fiberblend. Take one-teaspoon (3 g) servings twice a day and gradually increase, over two weeks, to the recommended serving. The recommended daily serving is based on weight:
Up to 150 pounds (68 kg)        1   tablespoon (9 g)  
150-200 pounds (68-90 kg)       1.5 tablespoons (14.5 g)  
200 pounds or more ( 90+ kg)    2   tablespoons (18 g)  

Children should start by taking 0.5 teaspoon (1.5 g) a day 
and gradually increase to 1 teaspoon (3 g) per day.  
Add Herbal Fiberblend to six to eight ounces (240 ml) of water or juice.
Remember that the more fiber you consume, the more water you should consume. Try to drink eight glasses of water per day while using Herbal Fiberblend.
A few people, notably healthcare providers who have been occupationally exposed to psyllium dust, may develop a sensitivity to psyllium, resulting in an allergic reaction.
Pregnant or lactating women should consult their health practitioners.
Take AIM Herbal Fiberblend for three months as suggested, then, as desired.
Further Reading
Castleman, Micheal. The Healing Herbs. Emmaus, PA: Rodale Press. 1991.
Lust, John. The Herb Book. New York: Bantam Books. 1974.
Ody, Penelope. The Complete Medicinal Herbal. New York: Dorling Kindersley. 1993.
For More info on Herbal Fiberblend including a list of the herbs click here.
"AIM products are not intended to diagnose, cure, treat,
mitigate, or prevent a disease or illness. Results may vary per person"
Leave us Your Questions or Comments Online