AIM Specialty Products
Short descriptions for each of these products are below on this page. Click on the desired product above or scroll down to the desired product description.
---
Renewed Balance Cream is a tremendous product, one that we fully recommend. With over 14 years of experience with Renewed Balance we give this product a 10 ! Contains progesterone
AIM Renewed Balance is a body cream that contains natural progesterone along with other complimentary ingredients including vitamin E.
Key Benefits and Features

• Contains natural progesterone

• Contains vitamin E and carrot oil

• Useable by both men and women

• Has not been tested on animals

• Does NOT contain Methylparaben, Propylparaben, or Propylene Glycol

• 2-ounce (56 g) jar

• Contains about 56 1/8th teaspoons of cream.




Ingredients

Water, caprylic/capric triglycerides, glycerin, glyceryl stearate, stearic acid, progesterone, cetyl alcohol, tocopherol, phenoxyethanol, caprylyl glycol, acrylates/acrylamide copolymer, soybean (Glycine soya) oil, disodium EDTA, rosemary (Rosmarinus officinalis) leaf extract, sodium hydroxide, citric acid, lemongrass (Cymbopogon schoenanthus) oil, carrot (Daucus carota sativa) root extract, beta-carotene. No mineral oil • Not tested on animals.




A tremendous nutritional supplement that goes great with Renewed Balance is BarleyLife.


Top
---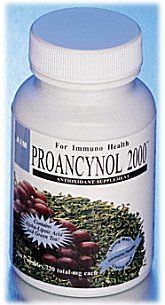 Powerful Antioxidants
AIMProancynol 2000™ contains some of the most powerful, natural antioxidants ever discovered. A unique blend of green tea, grape seed extract, alpha-lipoic acid, and other powerful antioxidants, helps fight free radicals and maintain a healthy immune system. AIMProancynol 2000™ also helps maintain a healthy cardiovascular system.
Proancynol 2000 is available in 60-capsule bottles.
Order Proancynol 2000

More on Proancynol 2000
Top
---

PREPZYMES

AIM PrepZymes™ combines cultured enzymes with papaya and alpine wild garlic. This breakthrough product has been specially formulated to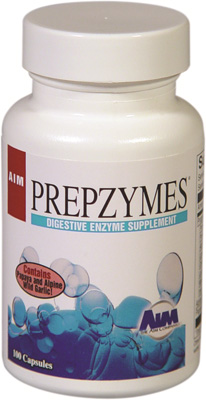 replace the naturally occurring enzymes lost during food processing, food preparation, and cooking, as well as due to irradiating or the cultivation of depleted soils; and

meet the digestive needs of the diet found in industrialized countries, which typically includes fats and proteins, hidden sugars, dairy products, snack foods, and processed foods.
Each capsule of AIM PrepZymes™ contains enzymes to help you digest the foods you eat, plus two special features. The enzymes are
protease for protein digestion,

amylase for carbohydrate digestion,

lipase for fats and oils digestion,

cellulase for dietary fiber digestion,

lactase for dairy products digestion,

sucrase for white sugar digestion and to complement amylase (Amylase first breaks down carbohydrates and starches into simple sugars, and sucrase finishes the process.), and

maltase for malt sugars and grain digestion.
AIM PrepZymes™ contains cultured enzymes, which are a breakthrough in enzyme production. Cultured enzymes have a very wide work environment: from 2.0 to 12.0 pH. In other words, they are active in both acidic and alkaline environments. This makes them the best possible choice for predigestion. See Prepzymes for more information. Top
See our Order page for Prices
---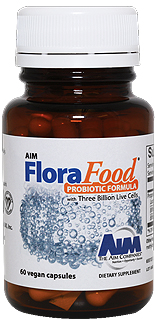 FloraFood


Bacteria that is good for you

We may not know it, but bacteria thrive in our bodies. There are more bacteria in the digestive system-some one hundred trillion-than there are cells in the body. Many of these are friendly.

Beneficial bacteria are integral in balancing and counteracting unfriendly bacteria. When friendly bacteria are not at appropriate levels, and when unfriendly bacteria dominate, health problems can result. These include gas, bloating, intestinal toxicity, constipation, and malabsorption of nutrients.

AIMFloraFood™ contains three powerful bacteria - Lactobacillus acidophilus, Bifidobacterium bifidum and Bifidobacterium longum — to provide an improved balance of excellent intestinal flora. 3-billion cells per capsule guaranteed through expiration.

Want to learn more? See the FloraFood datasheet

See our Order page for Prices




"AIM products are not intended to diagnose, cure, treat, mitigate,
or prevent a disease or illness. Results may vary per person".




Leave us Your Questions or Comments Online