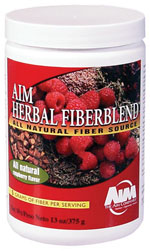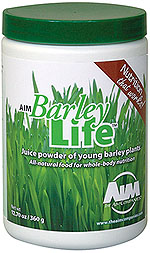 Together, BarleyLife

and

Herbal Fiberblend

make a dynamic duo. A pair that just can't be beat. BarleyLife provides a wide spectrum of nutrients including vitamins, minerals, carbohydrates, protein, fat, live enzymes, micronutrients and phytochemicals in a form that is easily absorbed by the body. We've found that Herbal Fiberblend is great for cleansing our colons (getting the black stuff out), reducing transit time, and ridding our bodies from toxins. Many folks have commented that they get the results with Herbal Fiberblend that with other products also required fasting and daily colon irrigations. So as a duo the Herbal Fiberblend has helped us get our colon in good shape so that the outstanding nutrients in Barleygreen can be best utilized by the body. The result is dynamic! No wonder BarleyLife and Herbal Fiberblend are the products of choice for the Hallelujah Diet.

Note: AIM BarleyLife has replaced AIM Barleygreen for greater nutritional density and lower cost. BarleyLife is dramatically better, less expensive and folks are seeing even greater benefits.



A full order page can be found at USA Online Ordering or CANADA Online Ordering or Australia - Order Online, or United Kingdom, England, Europe - Order Online
.