Herbal Products
Short descriptions for each of these products are below on this page. Click on the desired product above or scroll down to the desired product description.
---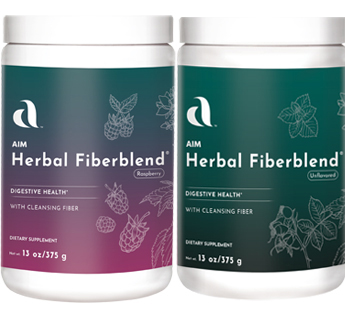 Herbal Fiberblend is a unique formulation of herbs and fiber. Mixed with 8 ounces of water or juice, a 7g tablespoon of Herbal Fiberblend contains 5 grams of dietary fiber. More and more, fiber is being recognized as an important component of our diet. The 1988 Surgeon General's Report on Nutrition and Health said, `Foods high in complex carbohydrates and fiber are associated with lower rates of diverticulosis and some types of cancer." Fiber studies show lowered cholesterol and reduced incidences of diverticlosis colon cancer and appendicitis.
Herbal Fiberblend provides dietary fiber through a combination of ingredients that took 20 years to develop. It contains psyllium, a source of fiber heralded by many nutritionists. In fact, psyllium has eight times the bulking power than the next best source of soluble fiber, oat bran. The 18 herbs in Herbal fiberblend have been krnown and used for many years, and working synergistically, they provide a wide variety of benefits.

Experience it yourself. Nothing works like Herbal Fiberblend.
Herbal Fiberblend comes in two flavors, Raspberry, and Unflavored.
Herbal Fiberblend - Much more information

Top Order online now
---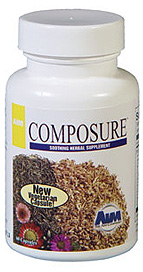 In the modern world, with our hectic schedules and busy lifestyle, there are times when we feel tense and stressed. As we tace to meet the demands of our complicated lives, sometimes we neglect the basic essentials of good health including exercise, pure water, and nutritious food.
The herbs found in Composure offer a time-tested source of nutrition that fits easily into our busy lifestyle. Composure allows you to incorporate the benefits of herbs into your daily life, in a combination of eight herbal extracts that magnify each herb's nutritional effect. These herbal extracts include shavegrass, marsh mallow root, slippery elm bark, oat straw, Irish moss, alfalfa, passion flower, and yucca.
Composure is available in 60-capsule bottles. Top
---

GINGOSENSE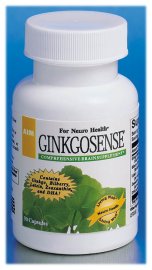 Anyone concerned with mental acuity and vision as they age may consider supplementing with AIM GinkgoSense™. This unique combination – ginkgo biloba with the essential fatty acid DHA, plus bilberry fruit extract, and the carotenoids lutein and zeaxanthin – provides overall support for your neuro health. Lutein and zeaxanthin, which are carotenoids found in green leafy vegetables, are essential for maintaining good eye health. And, like other carotenoids, they provide antioxidant support. Meanwhile ginkgo increases blood flow to the brain and supports circulation to the extremities.
Improves brain function, memory, concentration, and mental clarity
Improves blood flow to the extremities
Helps maintain healthy vision
Contains powerful antioxidants
Ginkgosense is available in 30-capsule bottles. Top
---

AlM Bear Paw Garlic comes from a relatively unknown species of garlic and provides both old and new benefits!
AIM Bear Paw Garlic is garlic with a difference. While the garlic found at the supermarket and in supplements is Allium sativum, AIM Bear Paw Garlic is a "new" garlic - alpine wild garlic (Allium ursinum).
Alpine wild garlic has never been successfully cultivated. It is found in areas of damp woods and wooded ravines and flourishes in the hills and mountains of Central Europe. Its name is derived from the claim that bears, after awakening from hibernation, eat wild garlic to regain their strength (ursinum is Latin for "bear"). When most of us think about garlic, the distinctive garlic bulb and cloves come to mind, but the active substances in A.ursinum are found in its green leaves.
Although largely unknown in the United States, A. ursinum was called "the new star" of garlic in a 1989 issue of the German health journal Therapiewoche (Therapy Week) and was declared the 1992 European medicinal "Plant of the Year" by the Association for the Protection and Research on European Medicinal Plants.
Benefits
Like "regular" garlic, AIM Bear Paw Garlic contains sulfur compounds, such as allicin and ajoene, and magnesium. manganese, and zinc. It has the same benefits, too, which include possible antioxidant, antibacterial, and antifungal properties. However, AIM Bear Paw Garlic has three advantages over domesticated garlic: 1) It has more of the active substances; 2) It has active substances not found in cultivated garlic, or found only when large quantities are taken; 3) It is odorless after digestion.
AIM Bear Paw Garlic contains more ajoene, more gamma glutamyl peptides (GLUT), and more than 20 times as much adenosine as domesticated garlic. This is notable because current opinion states that GLUT and ajoene result in an increase in the electrochemical difference across the membrane of the vascular smooth muscle. This in turn results in a widening of blood vessels, which may affect blood pressure. Adenosine also helps increase blood vessel width and can also reduce platelet aggregation (blood stickiness).
Features
When you first open AIM Bear Paw Garlic, the garlic odor is unmistakable. However, upon digestion the garlic odor is not noticeable. This is because the leaves of wild garlic contain substantial amounts of chlorophyll, which binds nitrogen compounds during digestion and thus prevents the development of the smell associated with the breakdown products of garlic.

AIM Bear Paw Garlic is also easier on the stomach than many other garlic products. Because the gamma-glutamyl peptides and adenosine are responsible for many of its benefits, the allicin content is not enhanced, as it is in many other products. It is the allicin that is responsible for many of the stomach problems people experience when using garlic.

AIM Bear Paw Garlic is hand-picked in the spring during a one-week period. It is harvested in the Alpine regions of Europe, in particular, Switzerland. Because it is wild and cannot be cultivated, only the leaves are cut; the bulb remains in the earth to ensure future supplies. Once the leaves are harvested, they are processed quickly. They are cleaned, washed, dried, and milled under low temperatures.

AIM Bear Paw Garlic is truly the better garlic.
Directions
Take three capsules of AIM Bear Paw Garlic per day. You may take them at any time. Store in a cool, dry place. If stored properly, shelf life is approximately four years.
AIM Bear Paw Garlic is available in 90-capsule bottles.
---
PARASITES?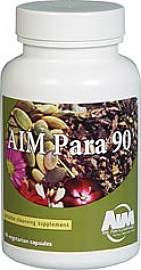 Is something having you for dinner?

Chances are, yes. Odds are that some 10 to 20 percent of us are hosting a dinner party for parasites. And parasites are not polite guests. They may contribute to constipation, diarrhea, gas and bloating, joint and muscle aches, allergies, skin conditions, chronic fatigue, and more. And, they don't like to leave.

AIM

Para 90™ is a special herbal cleansing product that helps keep your body free of uninvited guests. To produce AIMPara 90™, AIM extensively researched numerous herbs and consulted a master herbalist. The result is a tested and safe product that will help your body cleanse itself.

It's getting late. Have AIMPara 90™ show your uninvited guests the door. Suggested use is 3 times a day for one month a couple times per year.



---
See our Order page for Prices
"AIM products are not intended to diagnose, cure, treat, mitigate,
or prevent a disease or illness. Results may vary per person".
Leave us Your Questions or Comments Online