AIM Whole Food Concentrates
Click on the desired product above for a product description.
---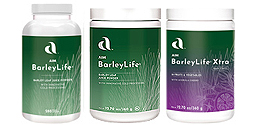 BarleyLife offers a convenient and economical way to supplement the fruits and vegetables so often missing from our diets.
Made from the juice of young barley leaves, Barleylife contains a wide spectrum of nutrients, including hundreds of naturally occurring phytochemicals: vitamins, minerals, enzymes, amino acids, antioxidants, chlorophyll and much much more. By simply mixing a teaspoon of Barleylife in a glass of water or in your favorite juice, you can conveniently enjoy a nutritious "salad in a glass."

We highly recommend BarleyLife over the previous AIM green barley juice powder.
Herbal Fiberblend Info
---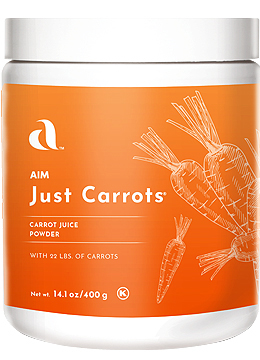 Carrot Juice
Just Carrots takes a half pound of carrots and turns it into a convenient 10-gram serving of 100% pure carrot juice crystals. Using a Unique processing method, the fiber is removed from the carrots and the juice is crystallized, resulting in a residue-free, delicious, easy- to-drink mix.
With its naturally sweet, fresh taste, carrot juice is one of the most popular vegetable juices, yet juicing carrots can be expensive, messy, and time-consuming. With Just Carrots, you simply mix the suggested serving with 6 ounces of water or juice, stir, and enjoy. Just Carrots contains all the nutrients found in fresh carrot juice, including vitamin C, riboflavin, niacin, calcium, and iron. Carrot juice is a rich source of provitamin A, or beta carotene. Because of its strong antioxidant properties, beta carotene has been the subject of many recent nutritional research projects. In fact, the National Academy of Sciences and the National Cancer Institute have acknowledged a link between beta carotene and better health.
Just Carrots is available in 14.1-ounce jars, and jars of 350 caplets, and in individual, 10-gram serving packets.
More on Just Carrots
Top
---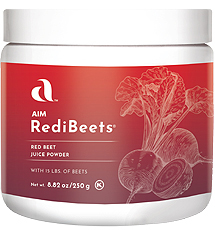 Beet Juice
Red beet juice has been an important part of human nutrition for centuries In modern times, French nutritionists have tested the value of beet juice, using diets that include up to 6 pints of beet juice daily. Often, beet juice is used in combination with other juices. In fact, three juices beet juice, carrot juice, and green juice form the central trio in most juicing programs. That's because juice lovers recognize fresh juice as a simple way to bring natural nutrients to their diet. RediBeets offers a convenient way to complete the collection of juices that you want to include in your diet.
Using a unique processing method that frees the juice and its valuable nutrients from the plant's fiber, RediBeets rakes a half pound of beets and turns it into a convenient teaspoon serving of crystals, eliminating the effort of traditional juicing. Mixed with water or apple, carrot. or other juices, RediBeets provides a delicious way to complete your juice program.
RediBeets is available in 8.8-ounce jars and 225 caplet jars. Top
---
The

Garden Trio™ packages BarleyLife, Just Carrots and Redibeets together to offer you a better price by purchasing all 3 items. The Garden Trio powder contains a 12.7oz jar of BarleyLife, the 14.1oz Just Carrots and the 8.8oz Redibeets. Top
---
For more information on becoming an AIM Member see the Business page.
To enter an order and/or become an AIM Member see ordering.
Retail and Wholesale Prices
See our online order pages for your country.
United States of America - Order Online
Canada - Order Online
Australia - Order Online
United Kingdom, England, Europe - Order Online
Hong Kong - Use our USA order page and we will email you shipping cost for acceptance before processing your order.
Your Satisfaction is Guaranteed
"AIM products are not intended to diagnose, cure, treat, mitigate,
or prevent a disease or illness. Results may vary per person".
Leave us Your Questions or Comments Online