Boswellin Extract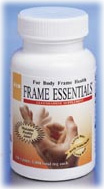 Boswellin extract
Unlike MSM, boswellin extract has not yet entered the nutrition radar screen. You don't see it being hyped in health-food stores, and most probably don't know what it is. But being unknown does not mean being ineffective, and boswellin extract actually has a longer history of use than MSM.
Boswellia serrata (Indian frankincense) has been used for centuries in the Indian Ayurvedic system of medicine to maintain healthy joints. Boswellic acids improve blood supply to the joints and maintain the integrity of blood vessels. At least one study has indicated that they may open up collateral blood circulation to provide adequate blood supply to the joints.
Boswellic acids have been known to reduce joint swelling, maintain blood supply to inflamed joints, maintain mobility, and reduce pain and stiffness in joints. They also have no side effects.
Boswellic acids appear to have anti-inflammatory effects because they inhibit an enzyme that is responsible for the manufacture of leukotrienes. Leukotrienes increase blood vessel permeability, which in turn results in the swelling and tenderness that characterizes inflammation.
According to Muhammed Majeed, et. al, in Boswellin, the Anti-inflammatory Phytonutrient, boswellic acids have been tested in both animal trials and human trials with positive results. In animal studies, they have been shown to reduce the number of glycosaminoglycans, which are integral in building tissue that supports joints.
Again according to Majeed, there have been a number of studies using boswellic acids in the treatment of rheumatoid arthritis. In three studies noted, the boswellic acid provided relief from morning stiffness in one, and lowered the arthritic score by about 50 percent in the other two.
MSM and boswellin extract sound good, don't they? What do you suppose happens when these two new kids are combined with glucosamine? Hmmmmm.


---

I used 3 glucosamine - chondroitin caplets per day, 1500mg per day, for 8 months with no noticable results. AFTER ONLY 6 WEEKS of the NEW MSM, GLUCOSAMINE, BOSWELLIN product,

FRAME ESSENTIALS

, I was able to make a full tight fist with both hands without any fingers "locking up". I am 73 years young, it is great to have my fingers working again! Read my Testimony.
Joint Health Page for More Information
Leave us Your Questions or Comments Online