Herbal Fiberblend Provides the Additional Fiber We Need
and Helps to Rid the Body of Parasites
Hallelujah Acres
For additional fiber, preventative maintenance of the colon and insurance against parasitic infestations, we recommend daily use of Herbal Fiberblend, which is described in the book Cleansing the Body and the Colon for a Happier and Healthier You. Advantages of adding fiber to our diet are well-known as researchers from all around the world have confirmed that populations with high-fiber diets have a much lower incidence of colon cancer, constipation and other colon-related problems. Soluble fibers such as psyllium are also known to help lower cholesterol levels. And because fiber causes starches and sugars to be absorbed more slowly into the bloodstream, this reduces the amount of glucose in the blood, which requires less work from the pancreas in producing insulin.
The 16-17 herbs contained in Herbal Fiberblend are combined to achieve all these benefits and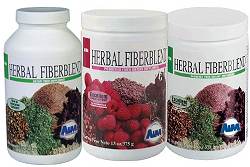 more. Along with being a great source of additional dietary fiber, Herbal Fiberblend offers insurance against parasitic infections in the colon and preventative maintenance that will benefit the entire body. Herbal Fiberblend is a finely-ground powder that can be taken in water or juice once or twice a day. Some of the ingredients and benefits of Herbal Fiberblend, as described by Cleansing the Body and the Colon for a Happier and Healthier You, include;
Psyllium is one of the best known sources of dietary fiber, containing more than eight times the bulking power of oat bran. Psyllium . acts as a colon broom as it creates bulk to pull putrefactive toxins from the intestinal walls. Shavegrass helps to dissolve tumors, expels parasites and kills their eggs. It also strengthens fingernails and hair because it is high in silica. Black walnut hulls are known for killing and expelling parasites. They also help regulate body fluids and balance sugar levels. Alfalfa is an excellent source of trace minerals because of its deep roots. It contains all eight essential amino acids, the eight essential digestive enzymes and is rich in vitamins. Oatstraw stimulates the neuromuscular system. Pumpkin seeds contain zinc, an essential trace element. They also help kill parasites and are good for some prostate problems. Irish Moss is high in iodine, making it good for the thyroid. Cascara Sagrada is an herbal laxative, helping regulate the colon. Licorice Boot stimulates enzymes and peristaltic action in the intestines. It is also used to stimulate and regulate the adrenal glands and pancreas, Vitamin C is an antioxidant, and helps the body's absorption of iron. Yucca has been used to reduce inflammation in the joints. Marshmallow root is helpful in removing kidney stones. Violet leaves are a cleansing herb, helping to remove toxins and parasites. Slippery elm coats the digestive tract, helping to heal inflammation and ulcers. Capsicum helps the digestive system, circulatory system and helps to regulate; the heart and blood pressure. Passionflower soothes the nervous system. Mullein leaves help with asthma, bronchitis and sinus congestion. Witch hazel helps mucus membranes and the circulatory system. Hibiscus flowers help lubricate the intestinal tract.
Leave us Your Questions or Comments Online